Akebono and Brembo are both well-known manufacturers of brake systems. Akebono is a Japanese company founded in 1929 and is known for its expertise in noise, vibration, and harshness (NVH) control.
Brembo is an Italian company founded in 1961 and is known for its high-performance brake systems, which are used on many racing and high-end sports cars.
It is difficult to say which company makes better brakes, as Akebono and Brembo are highly regarded in the automotive industry.
Generally, a brake system's performance will depend on various factors, such as the design, materials used, and how it is tuned for a specific vehicle. However, some possible differences between the two companies are:
Akebono is a Japanese company with a long history of expertise in noise, vibration, and harshness (NVH) control. Their brake systems may be particularly effective at reducing noise and vibration, making for a smoother and quieter ride.
Brembo is an Italian company known for its high-performance brake systems. Their brakes are often used on racing cars and high-end sports cars, so they may be designed to provide more stopping power and shorter braking distances.
Akebono and Brembo may use different materials in their brake systems. For example, Brembo often uses ceramic materials in their brake pads to reduce heat and improve performance, while Akebono may use different materials optimized for different purposes.
Ultimately, the best way to compare the two companies would be to look at specific brake systems from both manufacturers and compare their features and performance. It is also important to consider factors such as compatibility with your vehicle, cost, and any warranties or support offered by the manufacturers.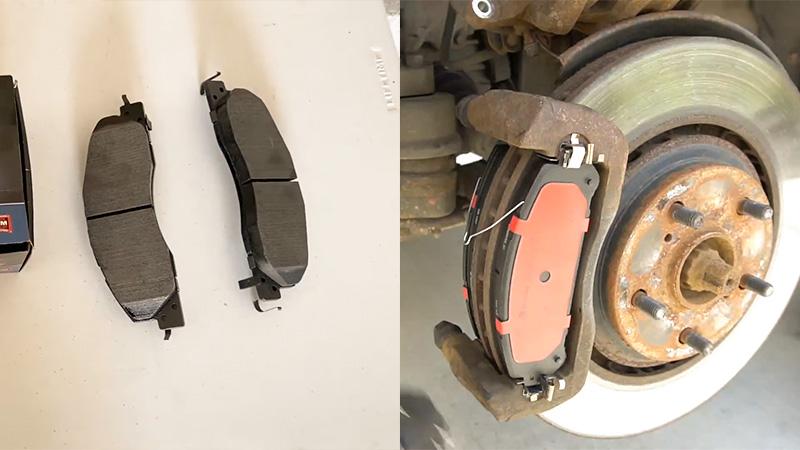 Akebono vs. Brembo
There is widespread recognition among racing enthusiasts of Akebono and Brembo as reputable brake brands. Due to this, it is sometimes difficult to decide which one is right for you. In the following sections, we will compare the pros and cons of both brake brands to help you make an informed choice.
In comparison with Brembo, Akebono has some distinct advantages and disadvantages. As a result of their low price point, Akebono brakes tend to be reliable for daily use with a minimal impact on brake rotors. 
The braking experience provided by Brembo is sharper and more responsive with lower noise levels. Aside from that, Akebono brakes are not designed for European vehicles.
Position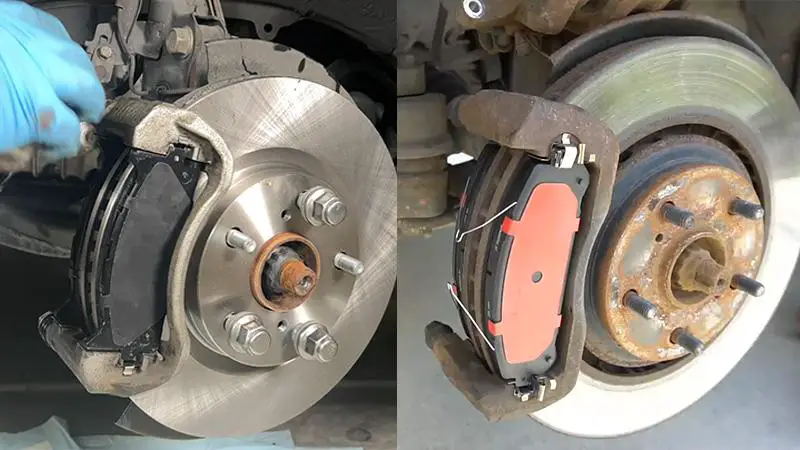 In addition to offering brake pads for front and rear positions, Akebono and Brembo also provide brake pads for SUVs and light trucks. You can purchase Akebono brake pads for a wide range of domestic and imported vehicles. 
Most cars can be fitted with their pads, so they're perfect for people looking for affordable alternatives. In addition to brake pads, Brembo offers a wide range of compounds for 6000 applications, including organic resins and sintered and carbon-ceramic brake pads.
Material
It is primarily the material of the brake pads that make them different from Akebono and Brembo. While Akebono brake pads are made of ceramic, Brembo brake pads are made of ceramic and semi-metallic materials. 
Compared to other brake pads, ceramic is quieter, dust-free, and don't vibrate as much. In addition, ceramic brake pads are less likely to warp or fade under pressure than metal ones.
Its good heat resistance comes from the use of ceramic and resin in the manufacture of ceramic brake pads. In addition to reducing your car's weight and fuel consumption, ceramics are lighter than semi-metallic materials.
On the other hand, metallic brake pads have several advantages over ceramic ones. Due to their quick response time, metallic brakes are good for short stops on high-speed roads, as they dissipate heat twice as quickly as ceramics.
Dust Levels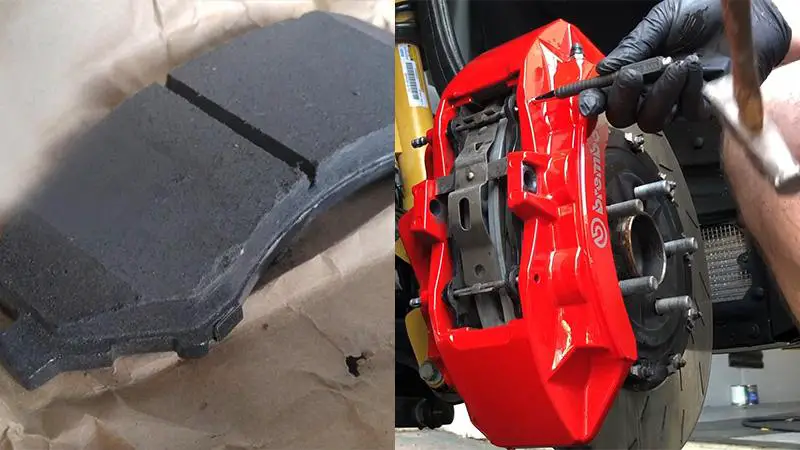 Compared to other semi-metallic or ceramic materials used in aftermarket brake pads, Akebono brake pads produce 75% less dust. Ceramic brake pads will help you save money on cleaning costs, and your wheels won't be as dirty all the time, which is a significant advantage they have over metallic brake pads.
Among the three materials that Brembo offers for its brake pads, there are three main types. There are two less dust-producing materials than the original brake pads: sintered metal and carbon-ceramic. 
Although organic resin compounds produce less dust than ceramic brake pads, they produce more dust than Akebono's.
Warranty
With Akebono brake pads, you get a warranty of 12 months or 12,000 miles. You can rely on this product if you want something that will last a long time. From the date of purchase, Brembo brake pads offer a two-year warranty against any defects in materials and workmanship. This product has a warranty of two years.
In terms of warranties, Akebono and Brembo are both good, but Akebono offers a better customer service experience and covers many potential problems. Choose Brembo brake pads if you want a longer warranty period.
Brembo Brakes Pros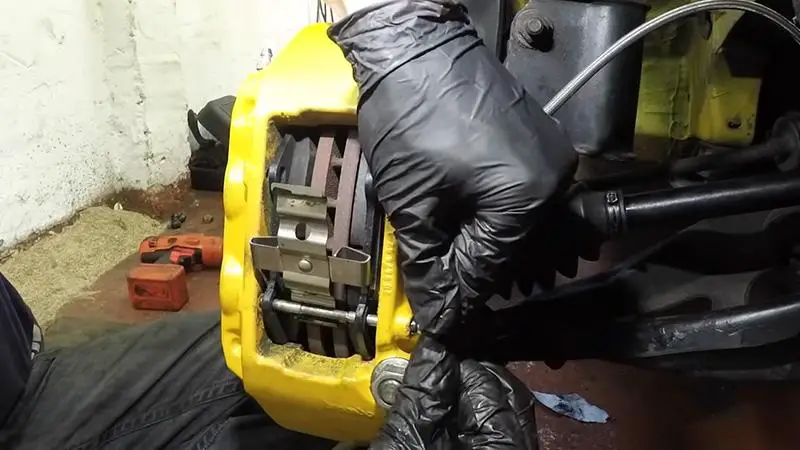 These brakes earn international reputations for a good reason. There is no doubt that Brembo brakes offer quality and performance, and riders who use them will see the difference on the track. The following reasons are among the top reasons why people opt for Brembo:
Lowered noise:
Due to vibration and noise control, it is quieter and more peaceful to drive with these brakes.
Caliper range:
Brembo brakes are compatible with a wide selection of calipers.
Performance capabilities:
You can expect Brembo brakes to make a big impact on any track. People appreciate these brakes because they're powerful and packed with punch.
Style:
There are striking red shims on the Brembo brakes. When you choose Brembo brakes, you're guaranteed to catch people's attention and add a touch of flash to your driving.
Brembo Brakes Cons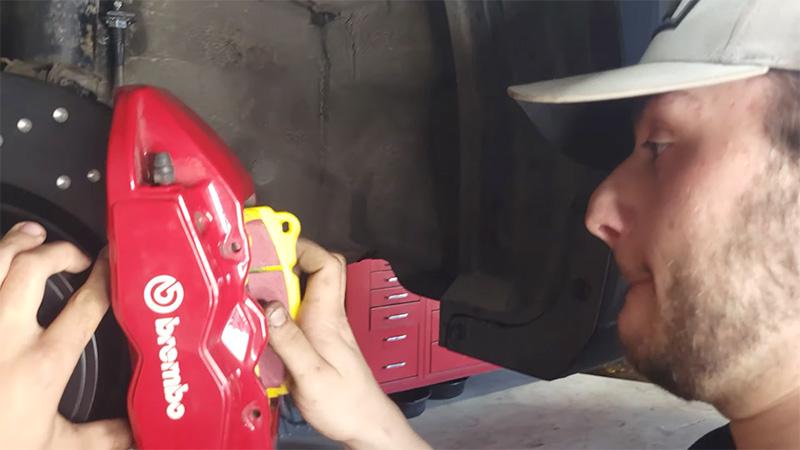 Many people are fans of Brembo brakes because of these benefits. It does, however, have a few negatives, as with any product:
The price point is higher
Lower speeds cause squealing
Creation of dust
When you keep these positives and negatives in perspective, you'll be able to make an informed decision.
Akebono Brakes Pros
Among the many types of brakes that Akebono offers are low-metallic and semi-metallic models that many racers can use. There are several reasons why people choose Akebono brakes:
Longevity:
Unlike other brakes, Akebono brakes last a long time and cause minimal damage to your rotors. Thus, you will not have to worry about constant repairs or replacements while racing.
No need for break-in:
You will not need to devote time to breaking in your breaks because they have been engineered to be effective.
Low cost:
With Akebono brakes, getting a quality braking experience without sacrificing your budget is easy.
Akebono Brakes Cons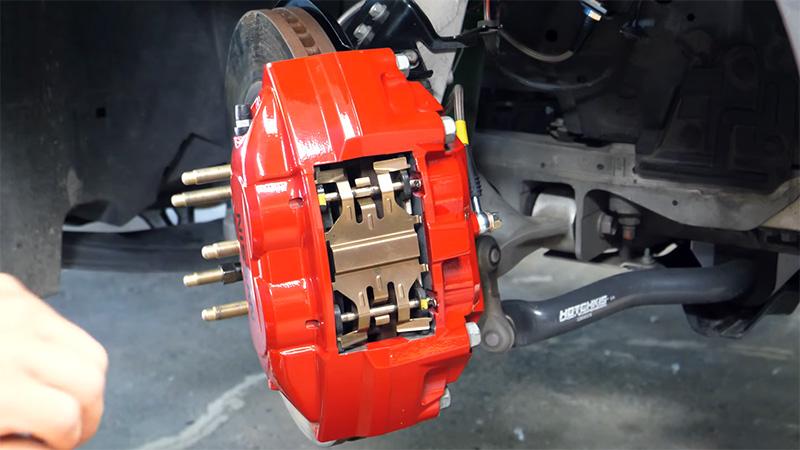 Akebono brakes are very popular, and it's not surprising why. There are, however, some disadvantages to them as well. Akebono brakes have been criticized for the following reasons:
European vehicles are not supported
Lubrication and friction levels are low
When compared to Brembo, this brake lacks power
Although Akebono brakes are a very good choice, you should consider their cons when making your decision.
When To Pick Akebono?
ProAct pads from Akebono are among the lowest dusting brake pads available. Additionally, the intelligent ceramic manufacturing process (made in the USA!) reduces brake rotor wear.
They're great for daily commutes, but their bite isn't as strong as Brembo's. In addition to OEM replacements for European cars, Akebono is the best choice. 
If you want to use their ceramic pads, ensure you get the European ones. Only aftermarket pads are specifically designed for European vehicles.
When To Pick Brembo?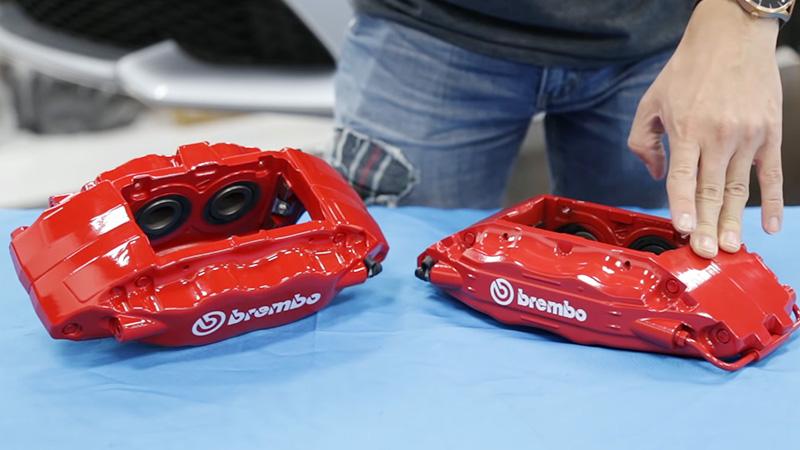 It is evident from the beautiful red shims that Brembo is a brand for those who enjoy a more adventurous driving style. It has a more aggressive bite and superior stopping power compared to the brake pads from Brembo. 
That is true, even when compared to Wagner or Akebono performance lines. A neatly engineered trio of Elastomer-Steel-Elastomer layers composes Brembo's signature red shims. What is the result? A reduction in noise and vibration in more extreme conditions. However, it needs more dusting.
Where Can I Buy Akebono And Brembo Brakes?
Having decided what you want, you'll need to find out where to purchase the new brakes.
A wide range of racing mechanics and racing materials suppliers carry these brands. Additionally, they are very easy to find online due to their popularity. Get a professional quote from your trusted mechanic or brakes if you are serious about buying one.
Where Are Akebono Brakes Made?
Since the company was founded in 1931, Akebono brakes have been manufactured in Japan. An industrial complex and the company's headquarters are located in Akita, a city in northern Japan. Also located in the United States, Europe, China, and Brazil, Akebono manufactures products worldwide.
What Cars Use Akebono Brakes?
A wide variety of cars use Akebono brakes, both domestic and foreign. Nissan Altima, Honda Accord, and Toyota Camry are among the models that use Akebono brakes.
Drivers looking for the best possible braking experience can count on Akebono brakes for superior performance and durability.
Are Brembo Brake Pads Good?
There is a reason why Brembo is one of the leading brands of brake pads. The pads are known to be both durable and effective, making them an excellent choice for people who want to keep their brakes in good condition. 
Furthermore, Brembo offers a variety of pads to choose from, allowing you to match your vehicle's needs. In other words, if you are looking for brake pads of high quality, Brembo is a great option.
Is Brembo or Akebono better?
People debate when it comes to the best brake brand – Brembo or Akebono. There is no question that both brands are highly respected in the automotive industry, and both offer high-quality products. The question is, which is better?
Choosing the right brake pad depends on what you're looking for. If you're looking for a brake system with great performance and durability, then Brembo might be the right choice. 
The Akebono brake pad, however, might be a better choice if you're looking for a brake pad that is more budget friendly. As a result, it comes down to what you value most in a brake pad and your personal preference.
Final Words
Drivers often debate what brakes are best for their vehicles, and Akebono and Brembo are two of the best options. All your racing pursuits will be enhanced by these brakes, as they are both high-quality and provide performance.
Akebono can be the right choice if you want a more cost-effective option ready immediately. Brembo promises supreme performance and low noise on the track at a higher cost.
No matter which option you choose, if you carefully consider your own needs and racing goals, you can't go wrong. If you are uncertain which brake system would suit your needs, you should consult a mechanic or do some research.