Inexperienced drivers tend to focus on how fast a car accelerates instead of making a quick stop. Experienced drivers will tell you that stopping quickly is twice as important as accelerating.
If you want to bring out the best performance in your car's braking system, installing a quality brake pad like the Duralast Max DGC1014 ceramic front brake pads in your car can help.
It will also save time, and indeed, insurance hassle and lives. In addition to better friction material, premium brake pads also have stronger, rust-resistant steel backing plates.
The backing plate rusts out on inexpensive brake pads easily, and the friction material falls off long before it actually wears out.
This is why you will need to rely on good-quality brake pads. Here is a quick overview of Duralast Max Ceramic Brake Pads.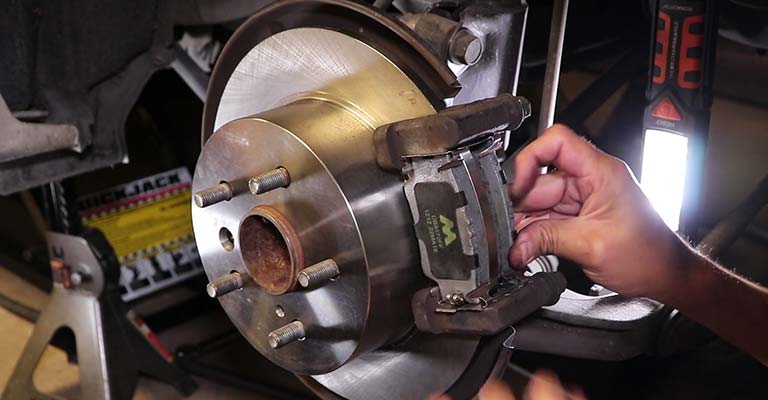 Duralast Max Ceramic Brake Pads
The Duralast Max ceramic brake pads have an ultra-quiet stopping performance thanks to the specially formulated friction material. Along with low dust, these brake pads have a shorter stopping distance and a longer lifespan.
Also, you are getting a lifetime warranty on these brake pads. The friction blocks have slots and chamfers matching the original equipment design.
Designed to perform to the original manufacturer's standards, these brake pads are durable and long-lasting. To prevent corrosion, these braking pads have powder-coated steel backing plates. And they also include an acrylic adhesive layer to aid in noise and vibration suppression.  
The vibration and noise are virtually eliminated on these braking pads thanks to the combination of a nitrite rubber shim layer and a rigid steel inner shim. As you know, the shim is a fundamental part of every brake pad.
Review Of The Duralast Max Brake Pads
Ceramic, metallic, and semi-metallic friction materials are available in the Duralast MAX line of brake pads. However, these materials are different from previous lines because you have the option to choose from them.
You can also find metallic brake pads for your car if it has an application that requires them. All aspects of Duralast Max brake pads have been designed to outperform OEM brake pads.
Duralast MAX pads are suitable for use in heavy-duty applications and daily drivers, and mild-performance cars.
They are definitely an upgrade from Duralast GOLD brake pads. Their bite, dust production, and smooth operation are factors why they deliver a good ride under a variety of driving conditions.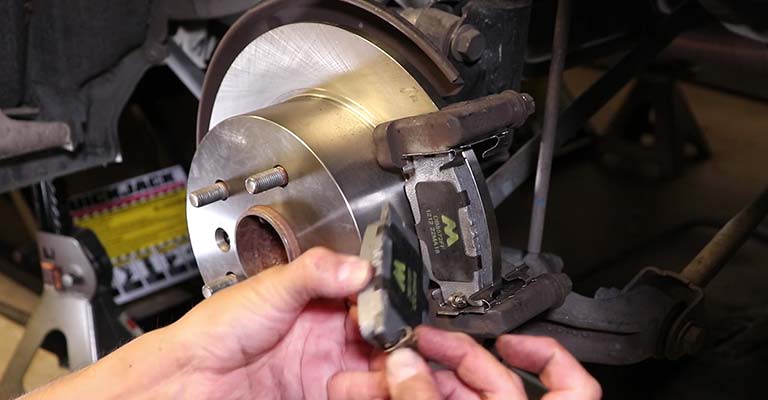 Who Is This For?
It's not surprising that Duralast Max brake pads are more expensive than standard brake pads. However, there is still a price difference between the original pads and these ones.
Duralast Max brake pads, in comparison to the GOLD line, do tend to be a little more expensive. When it comes to brake pads for a budget, the Duralast GOLD line or the Duralast line will suffice.
As you can choose from a variety of materials, Duralast MAX offers great variety to meet your needs.
Ceramic compounds deliver a braking experience that is smooth, quiet, and produces very little dust, while semi-metallic compounds deliver unparalleled performance.
Metal brake pads also have heavy-duty construction and are extremely reliable. The Duralast catalog has a variety of brake pads, but these aren't the cheapest.
Pros
Ceramic, metallic, and semi metallic brake pads available.
Provides improved performance over OE brake pads and lower dust production.
The pads feature four layers of shims, which provide quieter stops than the original brake pads.
A custom backing plate coating is included to provide maximum protection against corrosion, organic lubricant, and stainless-steel hardware.
The FF rating means an unsurpassed performance in both low- and high-temperature conditions.
Cons
Some models may not be eligible.
Duralast GOLD brakes are cheaper.
Advantage Over Brakebest Brake Pads
The decision to install one brand or another depends on the application and budget, as it is with many other automotive parts.
The reviews for Brakebest and Duralast are generally good among car owners who commute primarily to and from work by car. Accordingly, Duralast and Brakebest products are similarly priced but offer similar quality.
As you increase the price range, however, differences start becoming apparent. The integrated multi-layered shim design of Duralast MAX brake pads offers better noise and vibration isolation compared to Brakebest Select brake pads. In contrast, Duralast GT brake pads clearly outperform Brakebest counterparts when used in extreme conditions.
Unlike O'Reilly, AutoZone offers a no-questions-asked warranty, which seems to be a more satisfactory approach to customer service than the more conventional service that O'Reilly offers.
Lifetime Warranty
Limited lifetime warranty is included with Duralast brake pads. Be aware, before you jump at this and grab the next Duralast Brake Pad you can find, that part of this warranty ensures the manufacturer will replace any parts or materials that fail or break over its lifetime.
Although the manufacturer is not required to replace parts not mentioned in the warranty or those which have been damaged by misuse or abuse.
This means that once the pad has worn down as a result of normal use, it no longer has a warranty. If your brake pads wear out, you do not need to purchase new ones.
They will only replace the pad if it cracks or causes a deposit on the rotor, warpage, etc. They will not replace the rotor if this pad cracks or causes these problems.
The brake pads from Duralast come with a Limited Lifetime Warranty, which, according to AutoZone, basically means you are covered for the duration of your ownership of the vehicle.
AutoZone offers replacements or refunds for brake pads that fail as long as the product does not violate its warranty exclusions. In addition to abuse and misuse, improper installation, other defective parts, off-road and marine use are excluded from the warranty.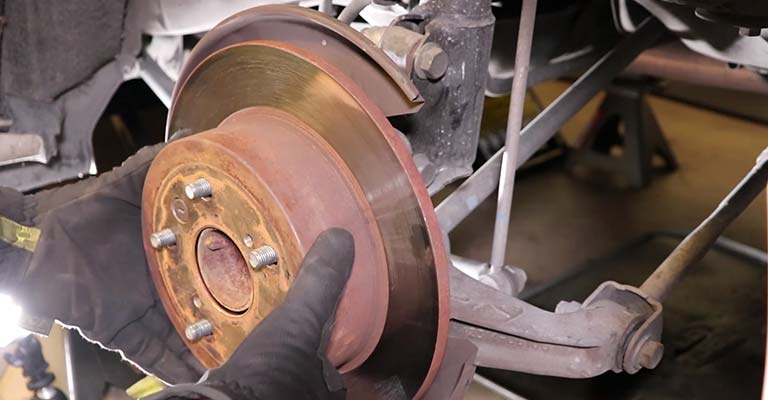 Why You Should Not Buy Cheap Brake Pads
I will never recommend brake pads less than ceramic or OEM  quality. Manufacturers of Asian vehicles usually use ceramic brake pads. Most cheap brake pads are noisy on them, particularly the cheaper brands that are finicky about brake pads.
As for the fake economy situation, the cheap pads tend to wear out sooner and especially so if you change them when you don't resurface or replace the rotors.
A cheap pad tends to produce significantly more dust if looks matter. Spend more money and get decent brake pads unless you want the sound effect of "fingernails on a chalkboard" every time you brake. 
Final Words
And that's all there is to know about Duralast Max brake pads. If you want to get OEM quality brake pads but don't want to spend too much, these brake pads can be a good option to consider.