Any avid driver knows that the material of a brake pad is important for safety. Brake pads are made of many different materials; semi-metallic brake pads are one of the best.
The goal of a brake pad is to protect your vehicle while braking and make sure that your braking performance is smooth. Brake pads have evolved through many different manufacturing processes and materials. Although some of the materials used before aren't used for manufacturing brake pads now, there are still many different options.
If you are passionate about driving, only the best semi-metallic brake pads will satisfy your taste. These pads from the 1980s are manufactured by so many different companies that it's easy to get confused. Don't worry; we have come up with a perfect list of semi-metallic brake pads just for you.
Looking for the perfect brake pads for your vehicle? Read on to check out our ultimate list of brake pads along with an insightful FAQ section.
What Are Semi-Metallic Brake Pads?
Those of you who are new to the concept of brake pads might not be familiar with the semi-metallic ones. These pads were introduced back in the 1980s and have been popular ever since.
The semi-metallic brake pads aren't completely made of metal but just have metallic fibers in them. Most of these pads have 30% -70% of metal.
The finer the fiber of the metal, the better the quality of the brake pad. These brake pads are excellent when it comes to heat dispersion and stopping power
These pads are also harder and more fade-resistant than the other brake pads. Semi-metallic brake pads are popular for being longer lasting as well.
When it comes to longevity, durability, and braking performance, you can completely rely on these brake pads.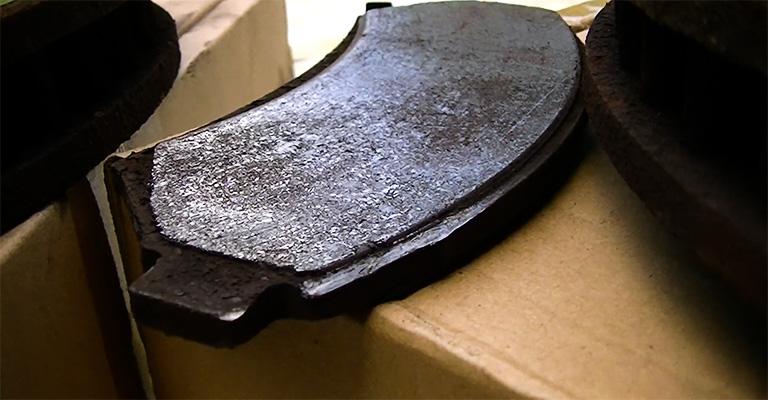 Top 7 Best Semi-Metallic Brake Pads
Choosing a product can be difficult when you don't know about that product. Now that you know what semi-metallic brake pads are, let's get right into the list!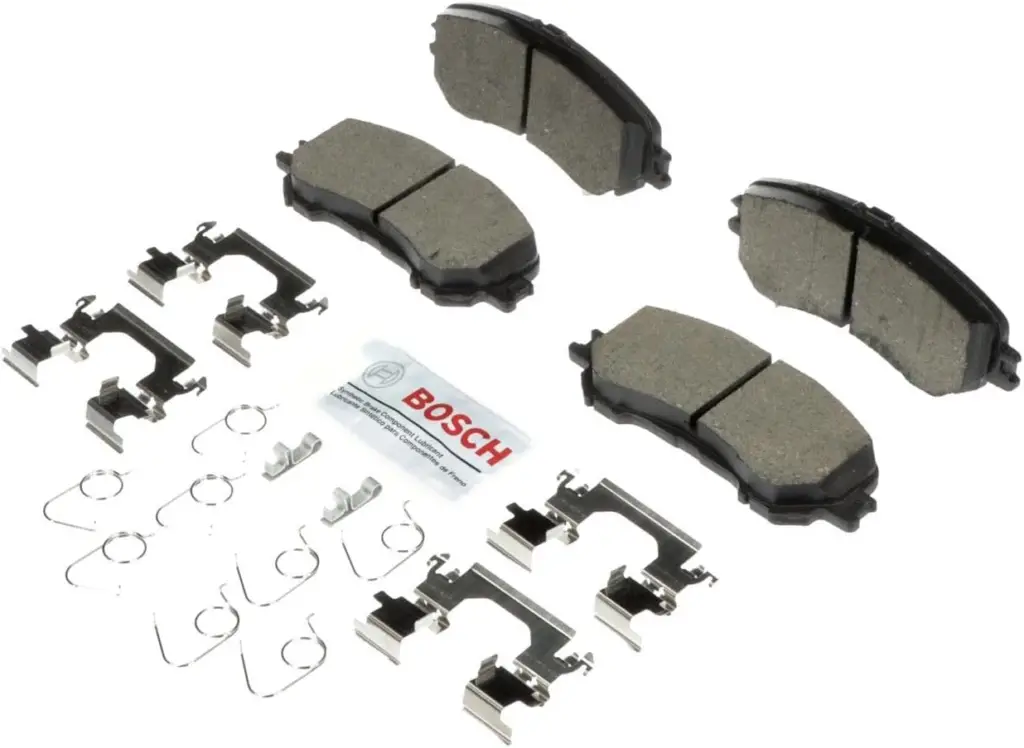 Our top pick is none other than the Bosch BC905 brake pad. The company has a great reputation for manufacturing outstanding products, and this one is no different.
Most semi-metallic brake pads are known to be noisy. But this one comes with a noise reduction feature, which ensures no annoying noises when your vehicle comes to a stop.
Another common complaint against the metallic brake pads is that they produce a lot of dust. You don't have to worry about dust with this particular brake pad; it was designed to produce less dust.
Aerospace alloy, compatible with the 2025 Copper Free legislation, is used in the body of these brake pads. The ceramic mixed with semi-metallic formula is copper-free, which is good for the environment.
There is a transfer layer in these pads to protect the rotors. This layer also increases vehicle durability and rotor life.
You can drive your vehicle with these brake pads during any weather. The backing plate is coated with powder, so they don't corrode or develop rust. So, whether it's rain or excessive heat, your pads are safe.
The brake pads come with chamfers and slots for better performance. Chamfer protects the brake pad surface and also reduces noise.  Slots allow the trapped gas of the brake pads to escape.
These pads are suitable for many vehicles, including the Nissan, 02-17 Altima, Juke, Leaf, Maxima, Murano, Pathfinder, Quest, Rogue, Rogue Select, Rogue Sport, Sentra X-Trail, and Suzuki Grand Vitara.
Highlighted Features
Includes chamfers and slots.
Noise reduction.
Powder-coated backing plate.
Aerospace alloy used in manufacturing.
Copper-free.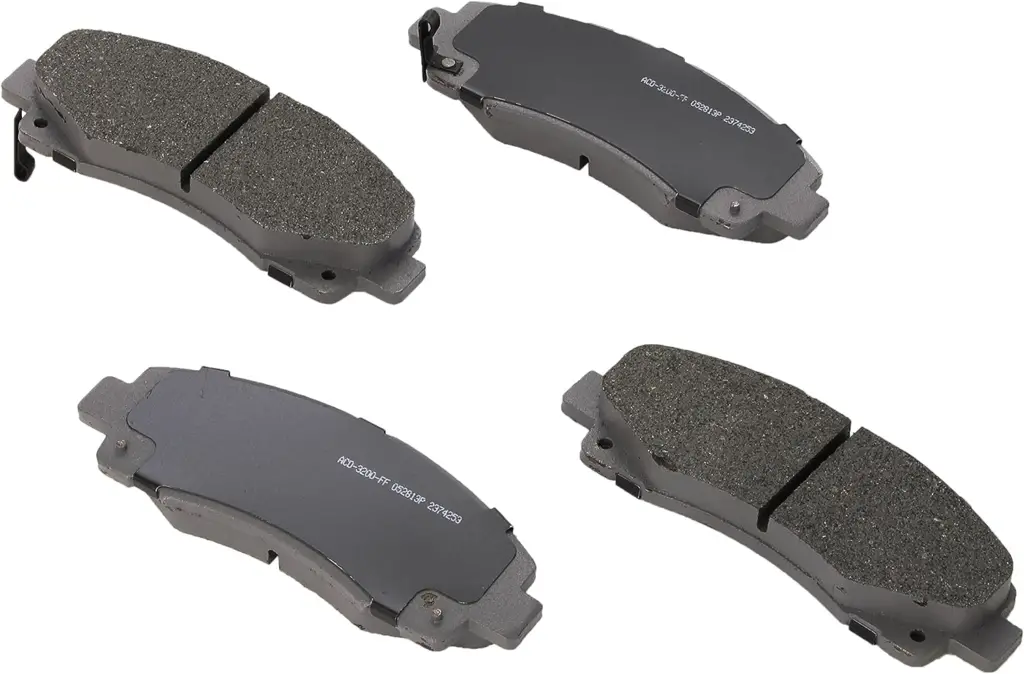 These brake pads are made of semi-metallic, organic, and ceramic materials. An interesting fact about these brake pads; that original ceramic is used in the manufacturing process.
Affordable products aren't often of high quality, but the case is different with this one. ACDelco has introduced these highly affordable yet great-quality brake pads to benefit their users.
The pads are resistant to heat, which gives you the opportunity to drive for hours without stopping. Chamfers, shims, and slots are included in the pads to eliminate any noise and discomfort.
Chamfers provide brake pads with noise reduction capabilities. Many vehicles tend to make screeching noises when stopping, which is not only annoying but also bad for the car wheels.
You don't have to worry about cleaning your wheels much with these pads. They don't accumulate dust or debris, so your vehicle's wheels stay clean for longer periods.
Slots are excellent for reducing vibration and eliminating trapped debris or gases. Slotted rotors are often used in semi-metallic pads. They have great braking performance.
Rotors and pads may clang against each other if there are no shims. The thin metal or rubber layer you see between the rotor and brake pad is the shim. It protects the brake pads and rotors from each other and also adjusts any minor imperfections.
If you are not into assembling or heavy installation work, you will love these brake pads. They can be easily installed right out of the box! The pads are perfect for many vehicles; check if it's suitable for yours before buying.
Highlighted Features
Includes shims.
Right out-of-the-box installation.
Vibration and noise absorbing.
Heat resistant.
Doesn't accumulate dust.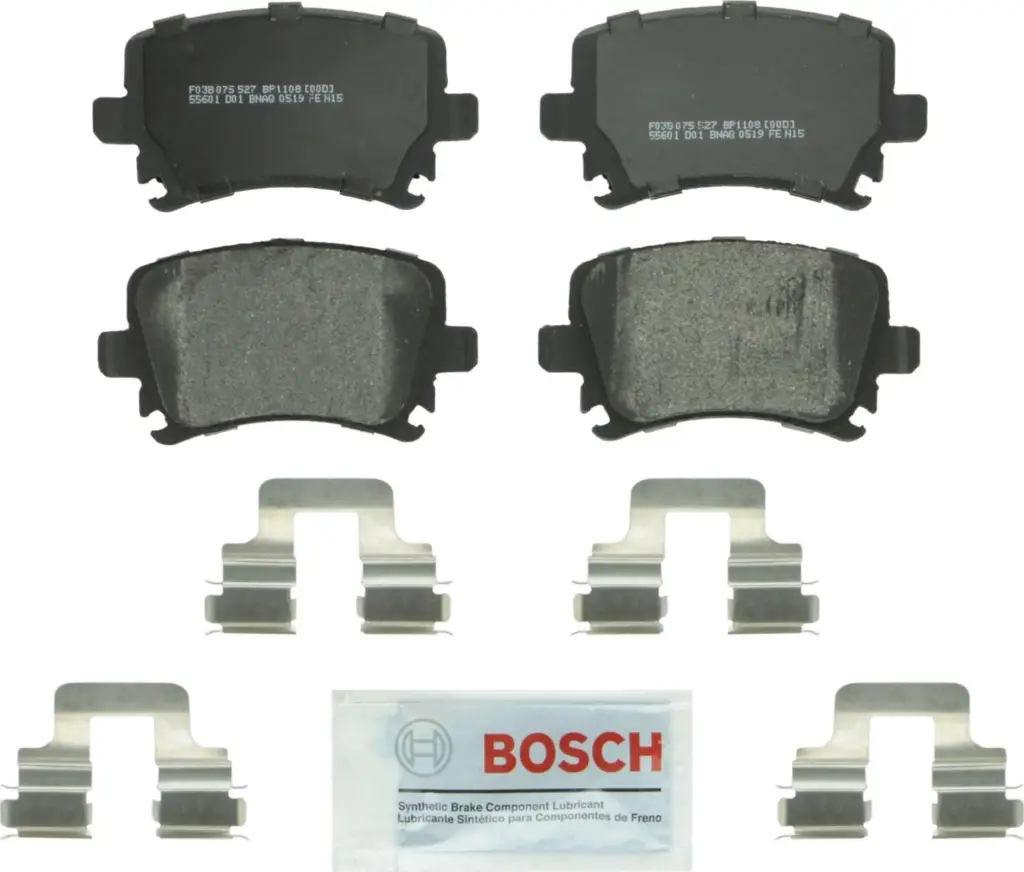 Another beautifully engineered, quiet brake pads from Bosch. The low dust feature of these pads makes it more user-friendly.
Made of premium quality materials, these brake pads are compatible with vehicles like Audi, Quattro, Volkswagen CC, Volkswagen Eos, Volkswagen Golf, Volkswagen GTI, Volkswagen Jetta, Volkswagen Passat, Volkswagen R32, Rabbit, and Tiguan.
The shim has a rubber core and is multi-layered, which provides better insulation and reduces noise. These pads were designed to operate quietly and sophisticatedly.
Whenever you are driving a car like Audi, you don't want to hear horrible noises; the shims provide excellent noise reduction facilities for comfortable rides.
Like the last Bosch product, this one also uses aerospace alloy in the copper-free ceramic. The alloy complies with the 2025 Copper Free legislation. All the materials used for manufacturing these pads are patented and safe for the environment.
Premium quality chamfers and slots for better performance are included in the pads. You don't have to invest in a separate hardware kit for brake jobs; these brake pads come with one. Synthetic lubricants, along with other tools, are included in the kit. 
The pads are long-lasting and highly durable. A transfer layer to protect the rotor and pads is pre-installed in the brake pads. These are rear brake pads; make sure you are buying the right set for the right wheels.
Usually, semi-metallic brake pads have excellent stopping power; these pads do too. You can drive swiftly and comfortably with these brake pads. If you are looking for something of excellent build and quality, these are the brake pads for you.
Highlighted Features
Aerospace alloy used.
Copper-free materials are used in production.
Includes hardware kit.
Noise reduction.
Multi-layer rubber-coated shims.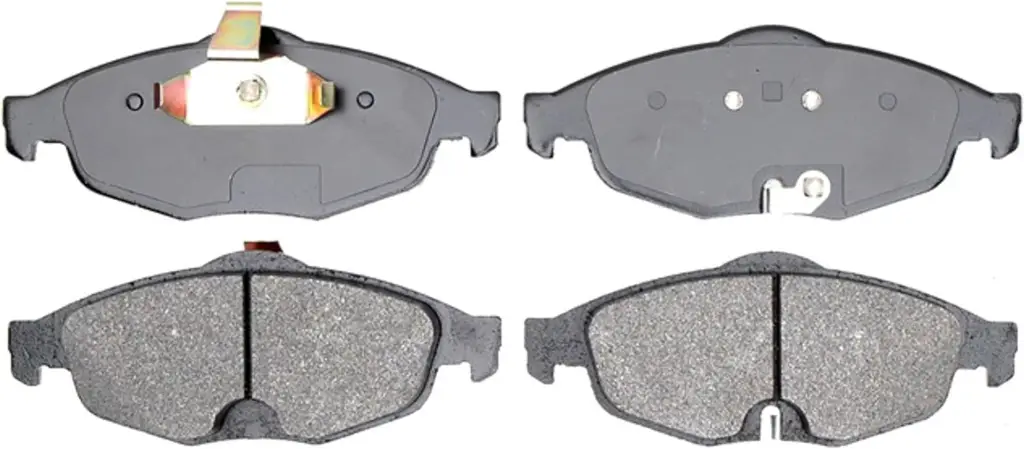 Another set of brake pads for the lazy folks out there! These pads can be used right out of the box and are very simple to assemble.
The brake pads come with slots, chamfers, and shims to reduce noise, eliminate vibrations, and ensure less harshness in braking. Need a smooth ride? These brake pads will provide one.
These pads also include the wear sensors. The sensors are designed and installed to notify users that they need to change the brake pads. There is a warning sign on the vehicle's dashboard, which lights up when you need to change the pads.
Wear sensors are excellent for preventing road accidents. As worn-out brake pads tend to be more accident-prone, it is wise to change them in time. Otherwise, your vehicle can experience brake failure, skid on slippery roads, and even catch on fire.
Brake fade resistance is an important feature of any brake pad. You don't have to worry about brake fade with these pads. Driving for uninterrupted hours with these pads is no problem.
You can use these pads for a range of cars. It is a rear brake pad, so you cannot use it for the front wheels. The pads not only help in stopping a vehicle but also protect the vehicle wheels.
Safety is one of the main reasons for purchasing brake pads. You can rely on these pads completely for safety purposes. The advanced design and tech-savvy features make this set one of the best.
Highlighted features
Right out-of-the-box installation.
Includes wear sensors.
Resistant to brake fade.
Includes slots, chamfers, and shims.
Noise reduction.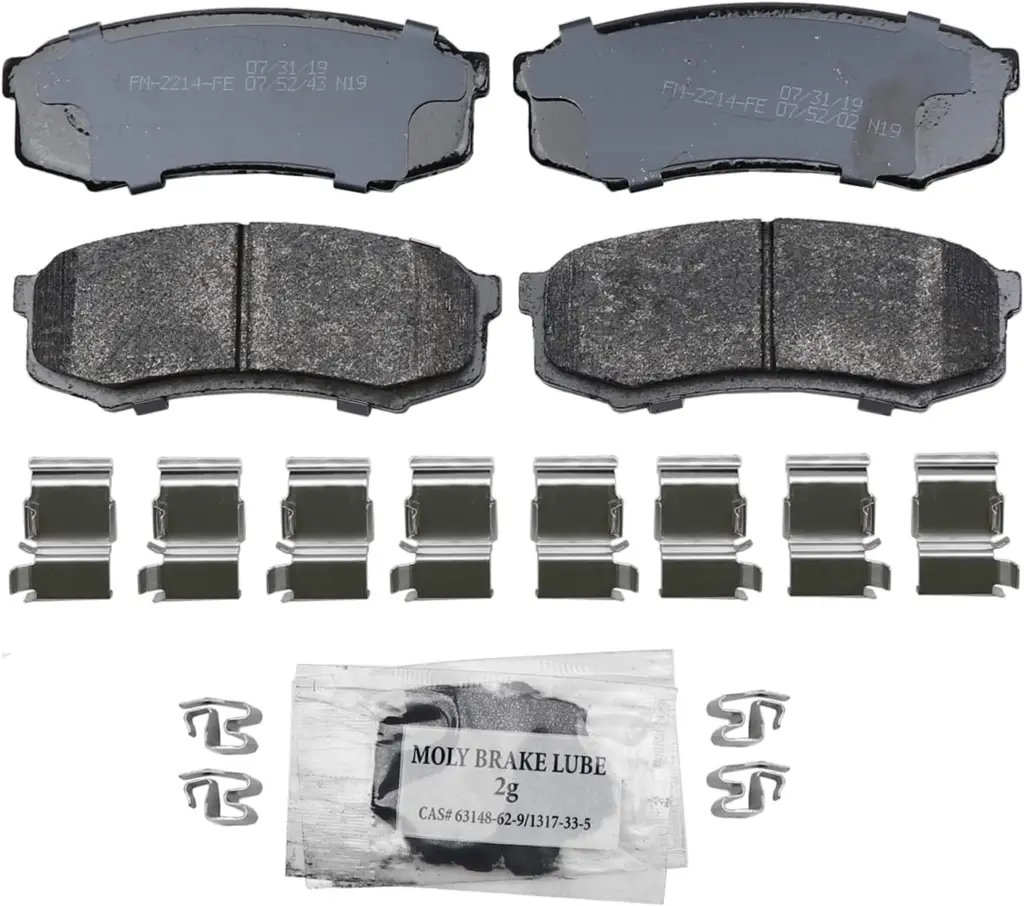 This interesting set of brake pads comes with many exciting features. The set can withstand extreme heat, high loads, and frequent stops.
These brake pads are made for extreme conditions. The pads are made of high-quality materials, which make them exceptionally strong. They last longer compared to other pads as well.
When it comes to quality, these brake pads are the best. They have passed the most quality tests and are better than strict industry standards.  You can be assured that these pads do not compromise quality.
You don't have to purchase the installation hardware separately; everything you'll need is included in the box. The pads are semi-metallic, which means they are highly resistant to brake fade.
The severe-duty brake pads are suitable for any adventurous driver. Whether you are driving through snow or mountain paths, you can rely on these brake pads to support you.
Have you heard of the dynamometer tests? These tests are done to measure the engine output. These brake pads have successfully passed this test and have the power to brake in extreme conditions.
If you are an adventurous driver who likes to drive in adverse situations, you certainly have struggled with finding the perfect set of brake pads. Well, here you go. Definitely opt for this set if you are into extreme driving.
These are front brake pads, so be careful not to use them on the rear wheels.
Highlighted Features
Can withstand extreme heat.
Capable of taking heavy loads.
Strong build.
Suitable for adverse situations.
Has passed the dynamometer test.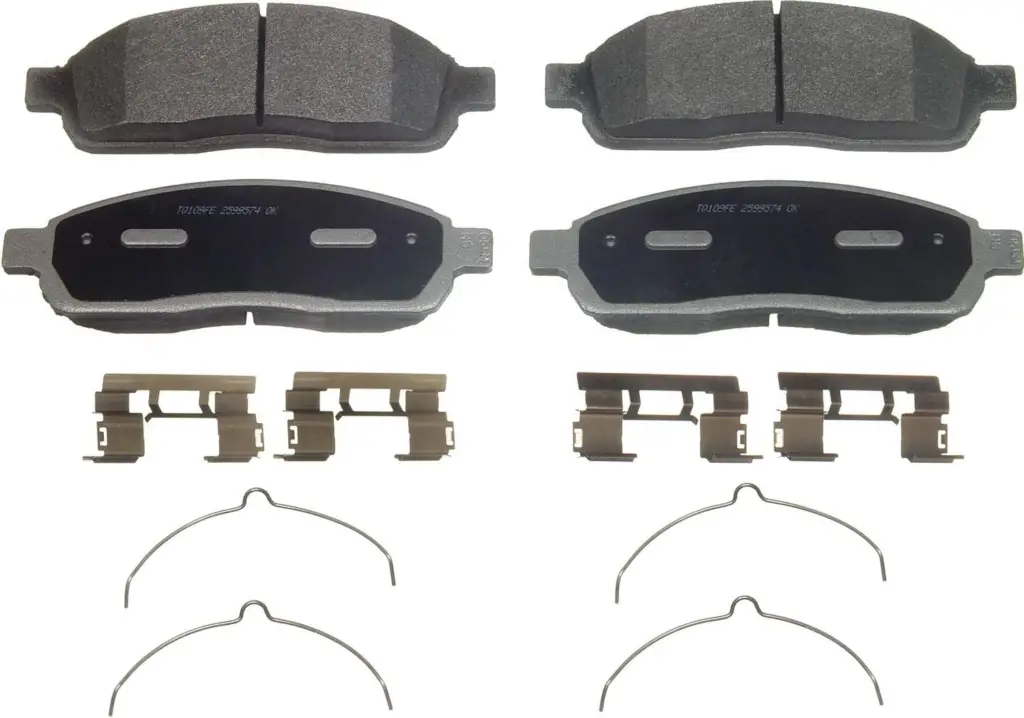 Another set of front brake pads for your front wheels. These pads are outstandingly quiet and have excellent noise-reduction features.
Whether you are a parent or a college student, the screeching sound of tires is irritating to everyone. Either it will wake up your kid or give you a terrible headache. That is why; the quieter brake pads are gaining popularity.
These pads come with great stopping power.  You can stop the vehicle even on slippery roads during the snow. The pads are strong and long-lasting. Users have used these pads for years without any kind of issues.
Wagner is a very user-friendly company. The company offers comprehensive coverage with these brake pads for both domestic and foreign nameplates. So, if your car gets into an accident, you will have the opportunity to replace or repair the brake pads.
All the hardware you need to install the brake pads is included in the package. This semi-metallic set of brake pads is great for family cars and regular-use vehicles.
Heat dispersion features are excellent in these brake pads. The pads also reduce vibration and provide smooth braking performance.
Aside from semi-metal fibers, ceramic and technology with low copper formulas are used for manufacturing these brake pads. The pads are mostly environmentally friendly. If you are purchasing brake pads for regular use, you can invest in these ones.
Highlighted Features
Quiet braking performance.
Disperses heat.
Low copper formula used in production.
Hardware needed for installation is included in the package.
Long-lasting.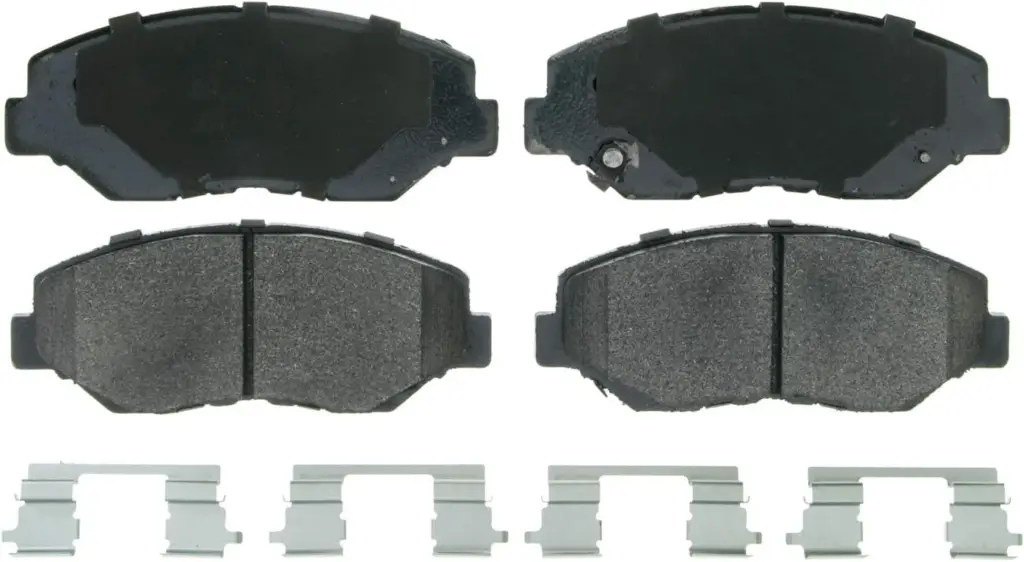 Last but definitely not least, these semi-metallic disc pads are manufactured by the famous Wagner Company.
A quick break is one of the main features of these brake pads. The pads are designed specially to brake instantly. Even with a sturdy and heavy vehicle, you will be able to brake in an instant.
The design of these brake pads is application-specific. So, the brake pads don't vibrate or make screeching noises on any surface. Noise reduction is a standard for modern brake pads; these pads have excellent noise-reducing features to ensure a quiet and comfortable ride.
You don't have to worry about the pads' performance declining over time. The pads are 100% OE-post-cured, so consistency in performance is ensured.
Buying hardware separately is not necessary for these brake pads; a kit is included in the package. The hardware kit includes synthetic lubricants of OE style along with other necessary tools.
Comprehensive coverage is provided by Wagner for these brake pads. So you can benefit from repair services from the company whenever you are having problems with the pads. The coverage is for both foreign and domestic nameplates.
These brake pads are suitable for any user. Whether you are a regular driver or an occasional one, you will love these brake pads for their simplicity and convenience.
If you are into driving in extreme conditions, we would not recommend investing in these brake pads. But if you are looking for something that you will regularly use on city roads, you can definitely go for these.
Highlighted Features:
Quick brake.
Comprehensive coverage.
Hardware kit included in the package.
100% OE-post cured.
Vibration and noise-reducing brake pads.
Frequently Asked Questions
1. Are all semi-metallic brake pads the same?
No, semi-metallic brake pads can have different portions of metal fibers in them. Usually, the portion stays between 30%-70%.
2. When do I replace my brake pads?
Replace brake pads when they start making squealing or screeching noises. If your brake pads have a wear sensor, then you will be notified to replace the pads.
3. What does a typical box of semi-metallic brake pads include?
A typical box comes with 4brake pads. Many companies include a hardware kit in the box. Check on the company's website or the package description to find out what's in each brake pad box before purchasing.
Conclusion
The best semi-metallic brake pads set should have all the things you are looking for. Keep in mind that the brake pads differ for front and rear wheels. Make an appropriate budget and look up the product on the company website before making your purchase.
Semi-metallic brake pads are great for all-weather and most roads. Don't forget to match your vehicle type with the brake pad before shopping. Good luck!
Also read –