Enjoying a smooth ride in a Toyota Tundra can become dangerous if you can't stop this heavy vehicle properly. Especially if it's on the busy roads of the cities. A good braking system can make the difference between life & death. 
You shouldn't sacrifice your everyday driving experience with some bad brake pads. Not to mention it can also endanger your safety on the road. That's why you need the best brake pads for Toyota Tundra not just to ensure your safety, but also to make your ride smooth, noise-free & dustless.
Table could not be displayed.
Selected for Best Brake Pads for Toyota Tundra
The following are the top-notch brake pads for Toyota Tundra in the market. To help you make your research easier, we have separated the pros & cons for your convenience. Let's get right down to business, shall we?
1. Wagner ThermoQuiet QC1303
Talking Points
If you are in search of a quality pair of brake pads, then Wanger is a name that you are bound to meet. Their low copper technology sets new benchmarks for modern-day brake pads. Their IMI technology has integrated a one-piece design that accumulates the braking plate & insulator together for an easy installation.
The X factor for these brake pads is the laser shaped friction that enables heat to dissipate easily. This heat is the result of all the mechanical power that is required to stop the vehicle. Spreading it out easily means less vibration & sound for you to enjoy a noiseless drive.
The unique engineering formulation has provided users with reduced wear of rotor, which eventually leads to cutting our brake dust. So the result is that you won't have to worry about your wheels getting dirty.
Because of the superior build of this ceramic brake pad, it is bound to serve for a long time. The performance of the brake pads doesn't fade away even after using it for some time. Premium stainless steel hardware makes sure that the brake pads are installed perfectly without any flaws.
Pitfalls
It's only good for the front end of your Toyota Tundra.
No products found.
2. Bosch BP976 QuietCast
Talking Points
Every top-level brake pads have more or else the same features & applications, but the thing that most of them are missing is a top trusted brand named Bosch. The brake pads are constructed of platform-specific premium materials that meet most automobiles around the world.
The science behind their great performance lies in the uniquely engineered design. In the middle, you have rubber core multilayer shim that gives increased strength & resistance against noise. To make sure the middle has a backup, this rubber layer is cured between two layers of steel. All the sound vibrations pass through this friction material & backing plate dissipating any sort of noise.
The protective transfer layer around the pads ensures they stay with you for a long time. Molded shim technology makes sure that the shims always stay attached to the rotors. Aerospace alloy semi-metallic design protects against any sort of friction.
You are bound to have exceptional stopping power every single time on the road. The slots & chamfers are of premium quality. Along with the pads, you will get a hardware kit & synthetic lubricant to perform a complete brake job.
Pitfalls
If you are reversing then you may experience some squeaking noise.
No products found.
3. Toyota Genuine Parts 044660C010
Talking Points
If you are looking for a genuine OEM fit for your Toyota Tundra to replace your worn brake pads, then this is the part that you should go for. This is a rear pad set that is designed specifically to meet the dynamics of the braking system for the Toyota Vehicle.
The braking plates are precision machined which allows the pads to move more freely within the calipers. The brake pads have more freedom for efficient 7 smooth operation due to this design. You can no doubt rely on the quality as this is a direct fit OEM part of your Toyota vehicle.
The brake pads are engineered specifically according to all the specifications & tolerances of your Toyota vehicle. It can also be used with other Toyota parts. If you don't want the hassle of searching & risking your money on other brake pads, then you can rely on this genuine OEM part to do the job.
Pitfalls
They don't come with any extra parts or hardware.
Some wear indicators were missing from the pads.
No products found.
4. Detroit Axle – All (4) Front and Rear Drilled and Slotted Disc Brake Kit
Talking Points
If your vehicle is a Toyota Tundra, then the Detroit Axle has a full front & rear drilled disc brakes for you. These brake pads are built to meet or exceed OEM specification requirements. The whole package includes all four front & rear brake pads & rotors for your vehicle.
These brake pads are 100% ceramic brake pads & are built to endure even the toughest condition of the road. The drilled & slotted design gives your vehicle the ultimate stopping power. It has almost 20% better stopping power than most standard rotors. With such cross-drilled holes, the heat can easily dissipate to prevent any sort of vibrations at all.
To prevent any sort of rust, Detroit Axle has covered the entire parts with Zinc Dichromate Plating. No wonder the manufacturer gives a 10-year warranty on the whole unit. The installation hardware, as well as brake cleaner spray & brake fluid bottle, comes with the unit.
Downsides
You might need some anti-noise spray on the front rotors after some months.
The installation of rotors requires mechanical knowledge.
No products found.
5. Wagner ThermoQuiet QC1304
Talking Points
Be it brakes or hydraulics, Wanger is a name that will come up in a huge range of aftermarket parts. Like the previous Wanger brake pad we have gone through, this one is also the manufacturers ThermoQuiet series of brake pads. Like all ThermoQuiet designs, this one also has a one-piece design consisting of the backing plate & the insulator in one strong component.
With the unique design, laser-shaped friction spreads all the heat of the out & also eliminates any sort of sound or vibrations. It is very well known for its quiet driving. The enhancement of the interface of the pad & rotor makes it more efficient to undergo stress & friction. The unique formulation ensures that 40% less fade then every other brake pads in the market.
The formulation also helps in reducing brake dust to keep the wheels clean. With a much stronger stopping power & reduced fade, your Toyota Tundra would have a massive up-gradation in the driving experience. These brake pads come with premium stainless steel hardware for an easy installation.
Pitfalls
It does take some time to get the pads used to the wheels.
No products found.
6. Power Stop K2813-36
Talking Points
The better the build quality of brake pads, the more efficient they are in performance to your vehicle. Power Stop provides you with just that. With a build quality made from carbon-fiber ceramic materials, this brake pad has the strength to handle more load than most other ceramic brake pads.
There is also a significant decrease in wheel dust using the Power Stop K2813-36. Even 3rd part tests have also been conducted to just verify this fact. The results showed that three was 30% less dust then most average brake pads.
The design of the brake pad has lots of cross-drilled holes that help in dissipating the heat around the rotor more easily. This keeps the whole brake pad cooler that leads to a longer rotor life. You also don't need to face any irritating braking noises or squeaking at all.
Without sacrificing any drivability, you are able to achieve a greater stopping power with these pads. Silver zinc dichromate plating makes sure your brake pads are safe from rust or corrosion. Stainless steel installation hardware & high-temperature ceramic brake pads help in easy bolt-on upgrade without modifications.
Pitfalls
It does have a tendency to warp in extreme conditions.
The caliber tips are also a bit shaky. 
No products found.
7. Power Stop K2952 Front
Talking Points
In the end, we have another Power Stop brake pad. Unlike the previous model, this brake pad is only for front brakes. It has both rotors & ceramic brake pads coming with it. Slotted hole design makes heat dissipation more fluent making it vibration-free.
The K2952 has a similar trademark build quality of a Power Stop part. The carbon-fiber ceramic compound increases the braking performance of the pads. It's way better than all other average ceramic brake pads in the market. Zinc Dichromate plating acts as a guard against rust or corrosion.
It will not only give you enhanced stopping power but also keeps your wheels clean. 3rd party tests have validated the fact that these front brake kits from Power Stop show a significant 30% decrease in the dust compared to OE ones.
Stainless steel installation hardware & high-temperature ceramic brake lubricant are included with the brake pads for easy installation & maintenance. You can enjoy safe driving with noise-free braking in your Toyota Tundra.
Pitfalls
Some noise may arise as rotor and lugs don't fit in perfectly.
No products found.
FAQs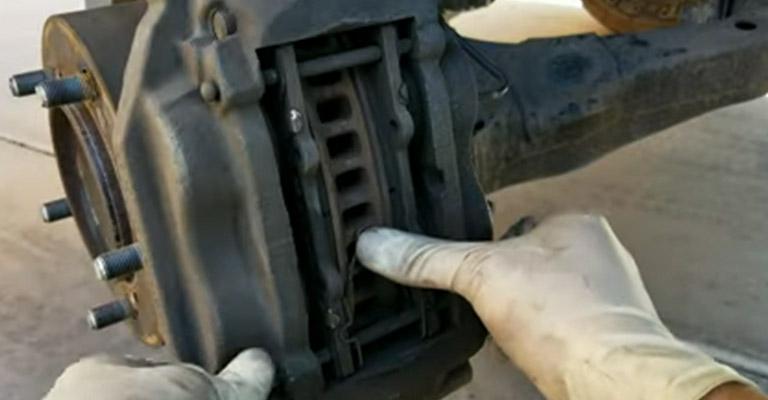 Q: Will any brake pad fit my Toyota Tundra?
Ans: No, all brake pads are not for sure to fit with your Toyota Tundra. There are a lot of varieties in model & year for Toyota Tundra. So in order to be perfectly sure, you need to match your vehicle model & year to see if it fits perfectly. Otherwise, it's of no use to you.
Q: How long do brake pads last for a vehicle such as Toyota Tundra?
Ans: The answer to this question depends less on the vehicle & more on the style of driving you intend to do. Ideally speaking, you can get almost 30,000 miles off your ceramic break bad. But if you are in the city, pushing the brakes more frequently, then the brake pads might wear a lot faster.
Q: What are some usual signs that my brake pads need replacing?
Ans: If you hear a squeaking or grinding noise while you hit the brakes, then that is the clearest sign that your brake pads are ready to retire. The brakes would also take time to fully stop the vehicle. You would also feel vibrations while you are braking.
Conclusion
With a pickup truck such as Toyota Tundra, making sure that the braking system of the vehicle is up to the task with such heavy load is essential. But you can have a lot of headaches considering there are tons of options to choose from. That's why we are here to share our thoughts on the matter.
If you are looking for a well-built brake pad with power & quiet operation, then the Wagner ThermoQuiet QC1303 would be a great choice. The Power Stop K2813-36 is not far behind with its carbon-fiber built & extensive long service. But if you don't want to do extensive research, then there are the OEM Toyota brake pads as a factory restore.
It doesn't matter what type of brake pad you choose, as long as it meets the essential features such as strong stopping force, quiet braking & clean wheels. With the best brake pads for Toyota Tundra, your driving experience is bound to be sweet as nectar.