Duralast is mainly known for its affordable lineup of brake pads that offer the best value for money. Yet, it has a few pricey editions in its portfolio, which focus more on luxurious vehicles. Duralast Elite is one of such high-end offerings.  
Unlike the cheaper Duralast Gold or Duralast GT, the Elite series does bring some notable spec bumps. For example, these brake pads feature a superior copper-free ceramic build paired with vulcanized rubber shims. But are these enough to justify their asking price? Let's find out in this Duralast Elite brake pads review.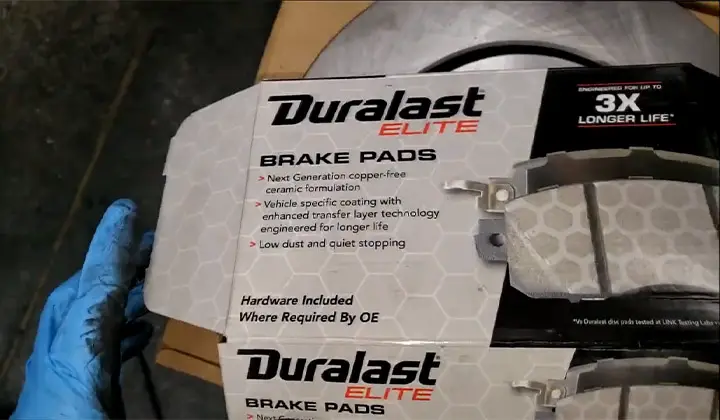 Duralast Elite Copper-Free Ceramic Brake Pads DE1081
Dust Control
Dust production is the biggest issue on generic brake pads found in the aftermarket. For instance, organic pads are the ones with the most dust production, while ceramic pads don't overdo it. Duralast Elite brake pads, having ceramic construction, produce the least amount of dust next to the most popular offerings.
Noise Reduction
In terms of noise reduction, what matters is the quality of the shims. Most manufacturers don't experiment too much and go for the more straightforward option, factory-like 3-layer shims. That, however, results in mediocre noise reduction with a few squealing here and there.  
On the contrary, Duralast Elite brake pads come with vulcanized rubber multi-layer shims instead of the OE-like ones. These provide excellent noise reduction so that you get the quietest braking experience. In fact, they can outperform Nitrile-weave shims as well on some occasions. Hence, DE1081 will offer a more luxurious ride.
Friction Formulation
The overall performance of brake pads relies on friction formulation, whether it is in terms of durability or stopping power. Popular formulations include ceramic, semi-metallic, and Carbon Fiber incorporation. No matter the material, avoid those with copper since it reduces the stopping power and produces more dust.
While typical pads come with OE-like formulations, Duralast Elite pads offer next-generation copper-free ceramic. Therefore, they provide better stopping power as compared to semi-metallic or carbon fiber ones. Thanks to that, you'll be in full control while braking with much less brake-in time.  
Durability
As stated earlier, friction formulation plays a part in boosting the durability of brake pads. Duralast Elite pads set an example in that aspect. Their copper-free ceramic formulation increases their lifespan by 3 times that of ordinary brake pads.
Best of all, these pads make use of a patented transfer layer technology. It dissipates the heat to save both the brake pads and the rotor from uncontrolled wear and tear. As a result, their lifespans increase, saving you the time and cash needed for frequent replacements.
Pedal Feel
Pedal feel is not directly linked to braking performance. But pads with poor pedal feel provide an uncomfortable braking experience. Usually, brake pads that come pre-installed with vehicles arguably offer the best pedal feel. Anyhow, Duralast Elite pads can pretty much mimic the OE-like pedal feel, thanks to their ergonomic design.
Cons
Unfortunately, Duralast Elite brake pads did underwhelm us on a few occasions. First of all, its construction is by no means suitable for extreme cold weather. Besides, if you own a vehicle for towing or hauling purposes and looking for the best brake pads for towing these brake pads will most likely disappoint you. That is because they focus more on luxury vehicles.
Frequently Asked Questions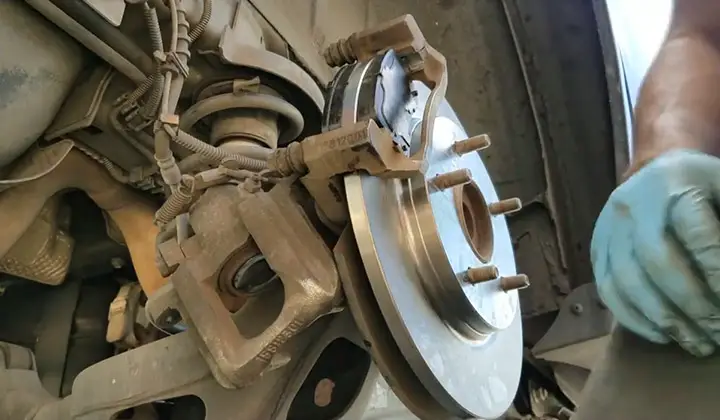 How long will Duralast Elite brake pads last?
Other than friction formulation, longevity depends mostly on usage patterns. If you go off-road more often, don't expect them to last forever. However, as Elite pads are for luxury sedans, there's no scope for testing them on off-road trails. In optimal driving conditions, they should last you for approximately 1-4 years.
Do Duralast Elite brake pads include wear sensors?
Unfortunately, Duralast Elite brake pads don't ship with pad wear sensors inside the package despite their high price tag.
Bottom Line
As of now, Duralast Elite brake pads are the go-to aftermarket solution for sedan owners. Nonetheless, it's not all sunshine and rainbows since they might face a few hiccups here and there. As long as you keep expectations down to earth and proceed with the traffic flow to skip heavy braking, they should serve you well.