Are your brakes wrecking your peace on the road? The diabolical squeal each time you hit the brakes is not just a screech of displeasure but also a warning. Brake pads need replacements often. So overlooking the tiniest issue can cause great danger afterward. No one wants that when the solution is near, do they? 
The caliper fastens the pads onto the rotor as soon as you press the pedals. The friction and conversion of energy create a huge amount of heat that causes the wear of brake pads and rotors. So regular inspections and knowing substitutions for your Audis are always safer. To find the best brake pads for Audi q7 and q5 may seem confusing but here's the lead to dig more.   
Table could not be displayed.
Notable Brake Pads for Audi q7 and q5
Shopping for brake pads can be tedious and cumbersome as there are so many options available. Besides, you have to look for the perfect fit as well. So the shorter is the list, the easier it will be for you to find the perfect one. We've gathered some of the best brake pads for Audi q7 and q5 analyzing the aspects carefully. They are given below.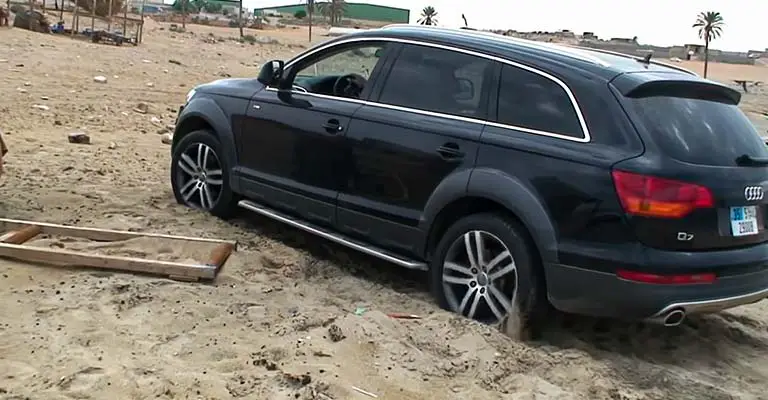 1. Bosch BP978 QuietCast Premium Semi-Metallic Disc Brake Pad Set For: Audi Q7- Quietest Operation  
It is said that nowadays among every three Asian, European and Domestic vehicles on the lanes of North America involves Bosch braking items. It has been ruling the marketplace ever since the first Bosch set came out. Now with the Bosch BP978 QuietCast Premium Semi-Metallic Disc Brake Pad Set, a new extent has been added to it.
This product meets the 2025 Copper Free Legislation. This aftermarket brake pad provides supreme quality and has taken the brake pad technology to a different level. It is made to platform definitive premium elements. With this brake pad installed in your Audi q7, the vehicle will achieve remarkable stopping power. 
Other than top quality, this Bosch set provides expanded coverage, trustworthy manufacturer support and supply, competitive pricing, and so on. The structure of this brake pad includes platform-specific ceramic, semi-metallic, and non-asbestos organic (NAO). 
One of the notable features of these pads is they are very silent. The best pre-attached laminated rubber core shims not only decrease noise to a certain level but also make the pads stronger and corrosion-resistant. There's also Molded shim technology added to the brake set. 
Advanced aerospace alloy is used. It is designed to become an ideal OE replacement. There's a protective transfer layer as well to provide high durability. This package also includes a synthetic lubricant and a hardware kit to serve you in the complete brake job. 
In comparison to Bosch BE923H Blue Disc Brake Pad Set and Bosch BSD1084 SevereDuty brake set, this brake pad set provides the longest pad life. The multi-layered shim application is a unique addition. 
However, the sensors of these brake pads are not quite amusing. Also, you can't have enough benefits from using these brakes for severe and medium-duty applications. 
Pros 
Pre-attached laminated rubber shim.
Silent operation.
Includes molded shim technology.
Exceptional stopping power.
Comes with a protective transfer layer.
Extensive quality and coverage.
Cons 
Sensors are not decent.
Not suitable for heavy or medium-duty operations.
No products found.
2. 100% New Front Rear Brake Rotors Brake Pads for Audi Q5- Certified fitment 
This 100% new front-rear brake rotors brake pads for Audi Q5 is an absolute pleasure for effective brake jobs. These brake pads are well-structured and made with high-quality ceramic. It provides great coverage and will fit your vehicle beautifully. 
The brake set is manufactured by ISO-certified factories to apt requirements of fit, function, and form. So if you're confused about whether new pads will meet your fitment requirements or not, it can help you in that. The interesting feature of this brake pad is that it includes automotive brake pads and rotors. 
The brake pad is engineered with high-level composite materials. It ensures great braking power and performance. It also secures extended life. Decisive hub hole chamfer assures a hub-centric fit. It helps in safe braking as well. 
Unlike the Bosch brake pad, it doesn't include any laminated rubber shim for noise diminish. It doesn't offer versatile applications as well like the other models, Power Stop KOE7097 or Power Stop K6143. Fitment is better and the brake set also comes with a 2 years warranty. 
Besides the benefits, there are downsides as well. there's no molded technology included in the product. The absence of noise control shims may make the braking a bit disturbing. There's no sensor added to the brake set. 
Pros 
Manufactured by ISO-certified factories.
Provides easy fitment.
Includes automotive brake rotors and pads.
Ensures hub-centric fit.
Engineered with high-quality materials.
Cons
Don't provide any noise control application.
No sensor included. 
No products found.
3. TRW Automotive TPC1386 Disc Brake Pad Set for Audi Q5-Incredible Versatility 
TRW is known as one of the world's leading brake pad manufacturers and they promise top quality, safety, and outstanding performance of their brake pads. This TRW Automotive TPC1386 Disc brake pad set actually offers them all and more. They are highly well made and perfect for safe braking. 
These ceramic brake pads are designed using vehicle-optimized friction formulation. It concentrates on excluding noise, harshness, and vibration. Thus you'll experience smooth braking and also increased durability. These pads are made to fit OE standards. Also, you can get fadeless performance out of them because they know to counteract the heat.
They don't compromise with safety issues. Unlike Bosch rubber shims, these brake pads include bonded Nitrile rubber-coated steel shims. So quiet performance is also ensured. 
One of the interesting features of this pad is it is coated with Citec. It is a 'Coating Innovation technology' and this silicate coating is used to the friction element of replacement brake pads which results in better contact between the brake discs and pads.
The pads are slotted and chamfered. This makes them more effective, safe, and comfortable. They held coverage for several vehicles. The kit includes all necessary hardware accessories to help in a professional and secure installment. 
Though the pads offer to provide a reduced dust operation, many complain that the output is not what it was promised. As they don't offer a universal fit, research before purchasing one for your vehicle. 
Pros 
Uses vehicle-optimized friction formulation
Provides fadeless performance.
Includes nitrile rubber-coated steel shims.
Coated with Citec.
Pads are slotted and chamfered.
Cons
Don't reduce wheel dust as promised.
Fitment can be an issue. 
No products found.
4. Akebono EURO Ultra-Premium Ceramic Disc Brake Pad Kit-finely Dust-free  
This Akebono EURO Ultra-Premium Ceramic disc brake pad kit is amazing as an OE replacement. It focuses on reducing the noise, vibration, and harshness of a vehicle's braking system. Thus you will not face these issues with this ceramic brake pad installed.
These pads are very well built. They deliver great braking power and performance. With these pads, stopping power is very linear and just as strong as the OEM pads once you'll apply the pressure. 
One of the most notable aspects of these pads is, you'll get rid of dusting. Even with the bedding, dusting is about 90% percent less. In this, Akebono is ahead of the previous products. There'll be no squealing and you can enjoy smooth braking with these pads.
The brakes are softer in the beginning. You may not enjoy the braking fully just out of the gate. However, as time goes on, it turns hard and progressive. 
Pros 
Outstanding OE substitution
Strong and linear stopping power.
Dust-free applications
Quiet brake pads
Cons
Not best at initial bites.
Your mind is perhaps busy now in comparison. To make it a little easier here is a table given below.
| | | | | |
| --- | --- | --- | --- | --- |
|     Attribute  | Bosch BP978 QuietCast | 100% New Front Rear Brake Rotor Brake Pad | TRW Automotive TPC1386 | Akebono EURO Ultra Premium |
| Noise level | No  | Low  | No  | No  |
| Brake dust   | N/A | N/A | Medium | No |
| Operation | Regular | N/A | Heave-duty  | N/A |
| Warranty  | N/A | 2 years | N/A | N/A |
| Hardware Kit | Included  | N/A | Included  | N/A |
No products found.
FAQ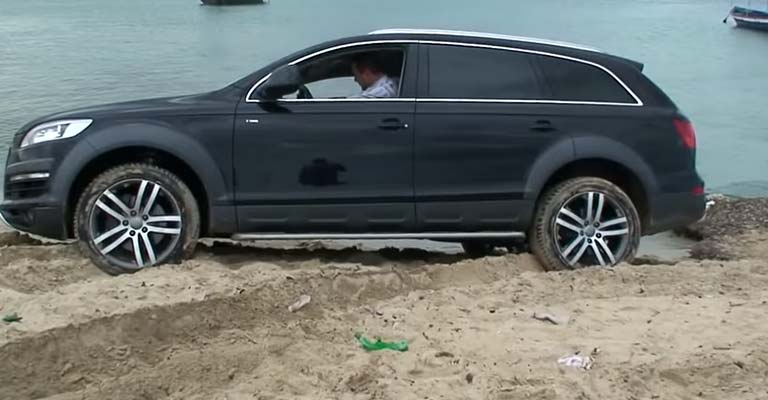 Q: What is the lifespan of Audi q7 and q5 brakes?
Ans: It actually depends on your driving habit. Generally, the brakes last between 30,000 to 70,000 miles.
Q: What is the best material for brake pads?
Ans: Ceramic brake pads are excellent for normal driving applications. They own an incredible stopping power and disbands heat as well. However, if you plan to drive on racetracks or spirited mountains, semi-metallic brake pads are a better choice.
Q: Is it possible to replace the brake pads all alone?
Ans: Yes, if you know about the brake caliper and the process clearly. The replacement is not tough to work but if it's your first and you don't have a proper idea, it can leave you in confusion. That won't help rather it can ruin further. All disc brake systems are not designed the same. So if you're new, it's suggested to seek help from someone experienced. 
Final Verdict 
Remember no matter how good your brand new brake pads are if the rotor is damaged and completely worn out they won't help. So before going for a new brake pad, inspect your brake rotors carefully as well. Your brake system needs a regular check. Hopefully, the facts and products listed above will help you in further dos.